Michigan Campgrounds and RV Parks for Sale
Buying a Michigan campground, especially a Norther Michigan park, typically is the best way to own a profitable hospitality business. Camping is gaining interest throughout the Midwest and campgrounds, especially RV parks are often at full capacity with rates increasing each year. An owner can typically work 6-8 months of the year, live at their resort and still make a good income. It is hard work, but can be very rewarding. Contact us anytime to learn about the benefits of purchasing a Northern Michigan campground or RV park or click here to view all the listed hospitality resorts in the area.
Want to keep informed of new recreational income properties? Sign up for our automatic email service and receive new and revised listings as they hit the market. Email us here and let us know what type of property interests you.
---
RV Park and Campground near Traverse City
Successful campground and RV park in terrific Northern Michigan location. Features premium and deluxe RV sites, tent sites, cabins and an outdoor pool. Listed at $650,000. Click here for details.
---
Pine River Campground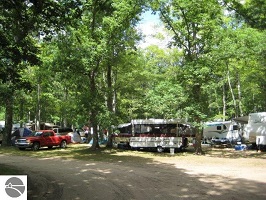 Campground with canoe access to the famous Pine River, featuring 74 sites on 20 wooded acres. There are rental cabins and rental RVs also and amenities include a camp store, modern restrooms and off road vehicle access to trails. There is an apartment included with the office and a separate 3 BR owners home. Listed for $849K.
---
RV park and campground on a wooded 40 acre parcel located between Higgins Lake and Houghton Lake. There are numerous RV sites and a section near the back of the property for tent camping, plus 3 rental cabins. Amenities include WIFI, horse shows/volley ball, modern restrooms and hiking trails. Listed for $498K
---
SE Michigan Campground $895,000
100 site campground in South East Michigan on 30 acres with (2) 3 acre swimming/fishing lakes. Features include 2 modern bath houses, large pavillion, rental cabins and a 4 BR owner's home. Click here for details.
---
Michigan UP Campground and Canoe Livery $475,000
Campground and canoe livery on 14 acres with direct frontage on the Manistique River. Features 15 camp sites, rental cabins, store, owner's home and livery equipment. Located only 1.5 hours from the bridge. Click here for details.
Traverse North Realty presents Northern Michigan campgrounds and RV parks for sale. Owning a Northern Michigan campground business can be a very rewarding or profitable venture. Contact us anytime for more information on campgrounds for sale and RV parks for sale, in Michigan and Northern Michigan.